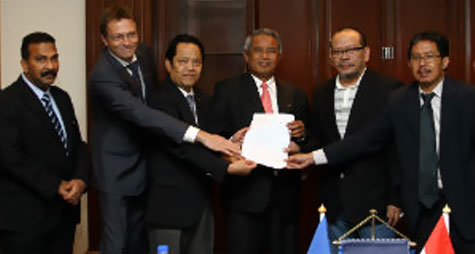 Kuala Lumpur: A Memorandum of Understanding (MoU) was signed on Thursday between the Indonesian Football Federation (PSSI) and the breakaway Indonesian Super League (ISL) and the Indonesian Football Rescue Committee (KPSI).
The agreement to cooperate and collaborate in the larger interests of the Indonesian game was inked after two days of extensive discussions by all the parties, in the presence of the AFC Taskforce, led by AFC Vice-President HRH Prince Abdullah Ibni Sultan Ahmad Shah and FIFA Executive Committee Member Dato' Worawi Makudi. Also present were AFC General Secretary Dato' Alex Soosay, FIFA Director of Member Associations and Development Thierry Regenass, Director of the AFC Member Association/International Relations & Development James Johnson and FIFA Manager of MAs Marco Leal.
The MoU is the first significant breakthrough for Indonesian football in recent times after both FIFA and AFC expressed their grave concern over how the breakaway league and the KPSI were affecting the game and asked all the groups to find common ground. An AFC Task Force was formed to help mediate the talks between the groups.
As part of the MoU, a joint PSSI committee will be established to create a new top tier professional football league. The committee will also work with FIFA and AFC to review the statutes and other association matters. The four expelled PSSI Executive Committee members will be reinstated.
The MoU also states that the ISL will continue to operate separately but will come under the umbrella of PSSI while the KPSI will not hold itself out as a football governing body.
pssi mou 3×2 02
HRH Prince Abdullah thanked all the sides for the spirit in which the MoU negotiations were held.
"It was in the interest of Indonesian football and I would like to thank everyone and FIFA for entrusting AFC to lead this mission," he said.
"This is the start of a new chapter in Indonesian football and an opportunity to put personal differences and politics aside for the sake of football. There is a lot of work ahead and AFC is willing to provide all the assistance to create a new top tier league in Indonesia."
"We are confident that the MoU meets the requirements of FIFA as all the football activities will be under the umbrella of PSSI."
AFC Acting President Zhang Jilong welcomed the news.
"I am pleased to note that all the sides in Indonesia have come to an understanding and this will serve the best interests of everyone involved," said Jilong.
"I request all the stakeholders to work for the development of Indonesian football, which has tremendous potential. We (AFC) stand ready to assist our Member Associations to take the game to the next level," added Jilong.
Source: AFC