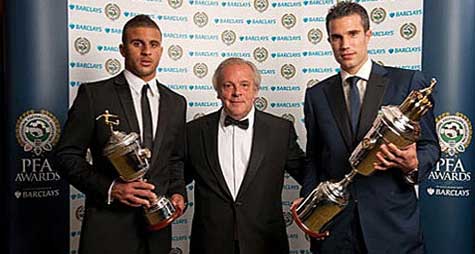 Robin van Persie has been named Player of the Year by the English Professional Footballers Association PFA. The Dutch striker scored 38 times this season, including 34 goals for Arsenal in all competitions.
Van Persie was chosen by his peers, all professional footballers in the English football league. 'If other people are saying it, it is special, but it is even more special if your opponents are saying it', Van Persie told Press Association Sport. 'It is very special because you are playing against them week in week out and every single player does everything to win. In the end, if they make up their minds that I am the best player it is a big honour.'
Van Persie is the Premier League's top goalscorer with 27 goals, but the 28-year old was quick to acknowledge the importance of his team-mates. 'Without them I could not have achieved it. For example, Theo Walcott, he has given me more than 12 assists and I do really appreciate that.'
Van Persie arrived at Arsenal in 2004, coming from Dutch club Feyenoord. In the early stages of his career as a Gunner, he was utilized mainly as second striker or out on the wing. But since manager Arsène Wenger has put Van Persie in the centre-forward role, the Dutchman has flourished.
'To be fair, when I first went there I wasn't really as confident and I wasn't really sure I could do it. It took a bit of time but after a couple of months I slowly realised I could do a good job there.'
Van Persie won the award ahead of Manchester United's Wayne Rooney, Tottenham Hotspur's Scott Parker and Manchester City trio Sergio Aguero, Joe Hart and David Silva.
Tottenham and England defender Kyle Walker was named the PFA's Young Player of the Year. The 21-year-old Spurs defender beat the likes of Alex Oxlade-Chamberlain (Arsenal), Sergio Aguero (Man City), Gareth Bale (Tottenham), Daniel Sturridge (Chelsea) and Danny Welbeck (Man Utd) to win the trophy.
Walker: 'I was a bit surprised because defenders don't normally get these awards and get the limelight as much as the centre forwards. If you look at the people I was in with then it is a great honour to get the award and hopefully there is more to come.'
Both Van Persie and Walker were also picked in the Premier League Team of the Year:
Joe Hart (Man City), Kyle Walker (Tottenham), Vincent Kompany (Man City), Fabricio Coloccini (Newcastle United), Leighton Baines (Everton), David Silva (Man City), Yaya Touré (Man City), Gareth Bale (Tottenham), Scott Parker (Tottenham), Robin van Persie (Arsenal), Wayne Rooney (Man Utd).
Source: FIFPro