Jakarta, 20 Juli 2022 — Menjelang diselenggarakannya Kick-off Liga 1 musim 2022/2023, bertempat di Kantor PT. Liga Indonesia Baru (PT. LIB) APPI dan PT. LIB mengadakan pertemuan membahas hal-hal penting khususnya yang berkaitan langsung dengan para pesepakbola profesional di Indonesia. Dalam pertemuan tersebut antara lain APPI menyampaikan hal-hal terkait beberapa klub Liga 1 yang masih memiliki tunggakan pembayaran gaji dan masalah kesehatan yang meliputi; jam penyelenggaraan pertandingan dan standar medis dilapangan termasuk kewajiban akan ketersediaan dokter tim bagi setiap klub yang melakukan pertandingan.
PT. LIB sebagai operator penyelenggara dari Liga 1, sangat menyambut baik laporan dan detail yang diberikan APPI mengenai tunggakan pembayaran oleh klub dan PT. LIB dengan tegas memberikan pernyataan untuk mengupayakan penyelesaian dalam waktu dekat, sesuai dengan regulasi yang ada untuk dapat mengikuti kompetisi Liga 1 2022/2023.
"Kami akan segera kembali melakukan re-check atas seluruh laporan terkait masih adanya tunggakan pembayaran dari Klub peserta Liga 1 kepada Pemain. Tentunya kami akan mengawal laporan tersebut akan berupaya untuk membantu penyelesaian dalam waktu dekat", Ahmad Hadian Lukita (Direktur PT LIB).
Terkait dengan aspek Kesehatan khususnya jam pertandingan malam, PT LIB juga menerima dengan baik masukan-masukan yang diberikan oleh APPI dan mengakui masih adanya kondisi yang belum optimal namun PT LIB akan terus berupaya untuk mendatkan formula terbaik untuk dapat mengakomodir semua kepentingan stakeholder termasuk para pesepakbola. Saat ini PT LIB juga tengah melakukan pelatihan terkait dengan Edukasi Medis dalam Sepakbola khususnya bagi para dokter tim, guna mencapai suatu standar medis dalam penanganan berbagai cidera bagi para pesepakbola di lapangan.
APPI yang dalam pertemuan ini diwakili oleh Andritany Ardhiyasa (Presiden), M.Hardika Aji (CEO), 2 perwakilan pemain yang sedang berada Jakarta yakni Maman Abdurrahman dan Syahrian Abimanyu (Anggota APPI) dan dr. Donny Kurniawan Sp.KO (Head Medical Division) sangat mengapresiasi sambutan baik dan upaya penyelesaian dari PT LIB – yang diwakili oleh Bapak Ahmad Hadian Lukita (Direktur) dan Bapak Asep Saputra (Deputi Direktur Kompetisi) terhadap laporan dan masukkan-masukkan yang diberikan oleh APPI.
"APPI sebagai perwakilan dari pemain sangat mengapresiasi komunikasi yang terjalin baik dan diskusi bersama dengan PT. LIB. Tentunya kami berharap diskusi tidak berhenti di pertemuan kali ini saja, karena masih banyak pekerjaan rumah untuk membawa sepakbola Indonesia menjadi lebih profesional." , M. Hardika Aji, CEO APPI
Dalam pertemuan ini, APPI dan PT. LIB juga membahas potensi kerjasama dalam hal kegiatan edukasi medis, kampanye terkait berbagai isu dalam sepakbkla serta proyek dan program-program pendukung lainnya yang bersifat entertainment (hiburan).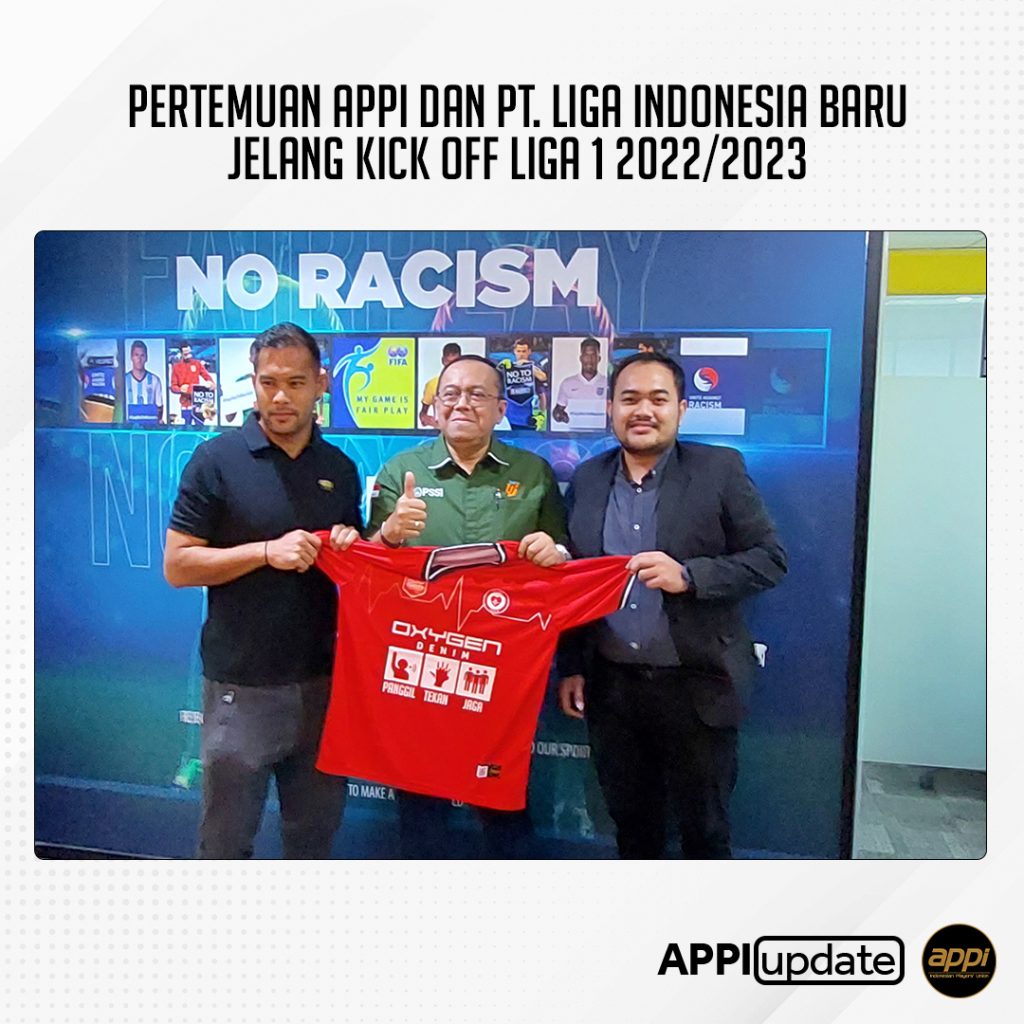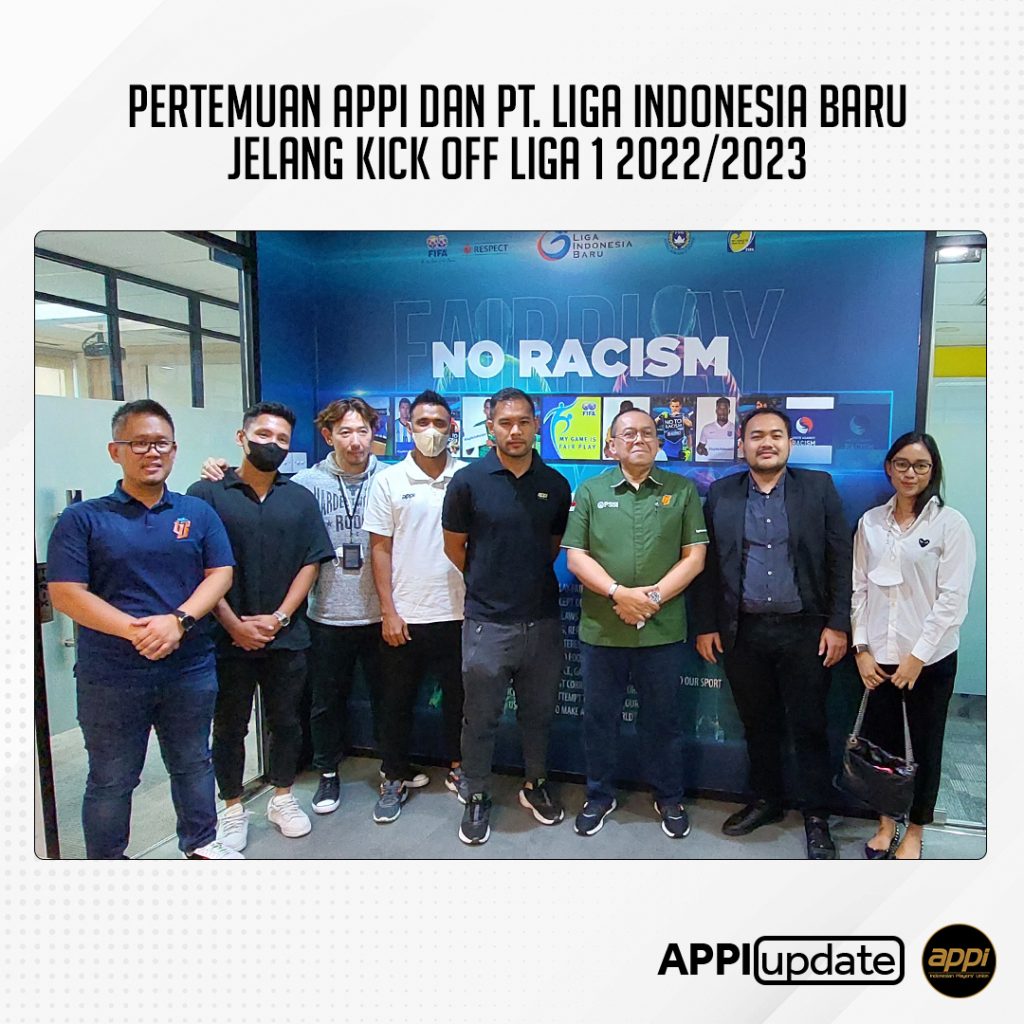 The Meeting of APPI and PT Liga Indonesia Baru towards Liga 1 2022/2023 Kick-Off
Jakarta, 20 July 2022 – Towards the 1 Kick-off of Liga1 2022/2034, taking place at the office of PT Liga Indonesia Baru (PT LIB), APPI, and PT. LIB held a meeting to discuss several vital matters directly related to professional footballers in Indonesia. During the meeting, APPI conveyed issues related to several Liga 1 clubs that still have arrears in payment of salaries and health problems which include; match hours and medical standards on the field, including the obligation to provide a team doctor for each club playing a match.
PT LIB, as the organizing operator of Liga 1, warmly accepted the reports and details provided by APPI regarding payment arrears by the club and PT LIB firmly provides a statement to seek a settlement in the near future, in accordance with existing regulations to be able to participate in the 2022/2023 Liga 1 competition.
"We will immediately re-check all reports related to still arrears in payments from League 1 participating clubs to players. Of course, we will oversee the report and will try to help resolve it in the near future", Akhmad Hadian Lukita (Director of PT LIB).
Regarding the health aspect, especially the late night night matches, PT LIB also welcomes the inputs given by APPI and admits that there are still conditions that are not yet optimal but PT LIB will continue to strive to find the best formula to accommodate all stakeholder interests including footballers. Currently PT LIB is also conducting training related to Medical Education in Football, especially for the team's doctors, in order to achieve a medical standard in handling various injuries for footballers on the field.
In this meeting, APPI represented by Andritany Ardhiyasa (President), M.Hardika Aji (CEO), 2 representatives of players who were in Jakarta: Maman Abdurrahman and Syahrian Abimanyu (APPI member) and dr. Donny Kurniawan SPKo (Head Medical Division) highly appreciates the good response and efforts to resolve by PT LIB – which was represented by Mr. Ahmad Hadian Lukita (Director) and Mr. Asep Saputra (Deputy Director of Competition), for the reports and inputs provided by APPI.
"APPI as a representative of the players really appreciates the good communication and discussions with PT LIB. Of course, we hope that the discussion will not stop at this meeting, because there is still a lot of homework to do to make Indonesian football more professional." , M. Hardika Aji, CEO of APPI
In this meeting, APPI and PT LIB also discussed the potential form of cooperation in terms of medical education activities, campaigns related to various issues in football and sports as well as projects and other supporting programs (entertaunment).
For any media inquiries, please contact 081210104215 or info.appi@yahoo.co.id 
About APPI
Asosiasi Pesepakbola Profesional Indonesia (APPI) was officially formed in 2008. The vision and mission of APPI are to provide protection and education to Indonesian professional footballers and build solidarity between footballers. APPI is a key member of FIFPRO and FIFPRO is the only World Footballers Association recognized by FIFA. In Indonesia, APPI has also been registered as an association organization and has been legalized by the Ministry of Law and Human Rights.