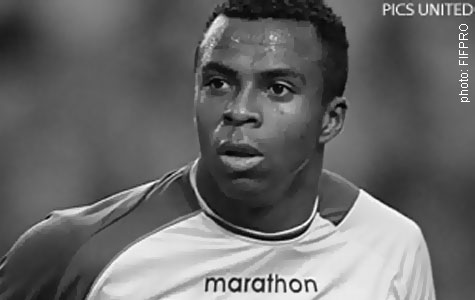 The football world mourns the death of two players: Cristian Benítez from Ecuador and Sékou Camara from Mali. Both passed away after suffering a cardiac arrest.
Christian 'el Chucho' Benítez is a 27-year old striker who made 58 appearances for the national team of Ecuador and scored 24 goals. He participated in the 2006 World Cup.
On Monday Benítez passed away. According to reports, he was suffering from an appendicitis. Due to severe complications he went into a coma, which caused a cardiac arrest.
On Sunday, Benítez played for his team El Jaish from Qatar. According to the club's management there were no indications of any health problems. Benítez joined the Qatari side on July 6th. Previously he had played for among others Santos Laguna, Club América (both Mexico), Birmingham City (England) and El Nacional (Ecuador).
On Saturday July 27th, Sékou Camara passed away during a training session with his club Pelita Bandung Raya (PBR) from Indonesia. The 27-year old striker made one appearance for the national team of Mali.
On Saturday evening, Camara and his team-mates were playing a match during practice. When a player passed him the ball, he did not respond and collapsed on the pitch.
He was immediately rushed to a nearby hospital. Unfortunately, the doctor was not able to save the player, who was announced dead at 11.00 PM.
Camara played in Mali and South Africa (Jomo Cosmos, Santos) before he moved to Indonesia in 2011, where he played for PSAP Sigli, Persiwa Wamena and PBR.
FIFPro was informed that Camara's two previous clubs in Indonesia, PSAP Sigli and Persiwa Wamena, still have outstanding salaries to Camara. FIFPro expects both clubs to honour Camara's contract and pay his family what he is owed.
FIFPro regrets the death of both Benítez and Camara. FIFPro – the worldwide representative of all professional footballers – wishes strength and comfort to their family and relatives.