Jakarta, 24 Juni 2021 —  As the development of our plan to immediately hold workshops related to first aid in handling minor or serious injuries for Indonesian professional footballers, APPI has established communication with related parties, including PSSI and NOC Indonesia.
This virtual meeting between PSSI and APPI was attended by PSSI General Secretary (Mr. Yunus Nusi), Deputy Secretary General (Mr. Dessy Afrianto) along with several PSSI staff teams. APPI was represented by the President and Vice President of APPI (Mr. Firman Utina and Mr. Andritany Ardhiyasa) Member of the Executive Committee of the Committee (Mr. Riyandi Ramadhana), Acting General Manager of APPI (Mr. M. Hardika Aji) and the ranks of the APPI staff team on Tuesday, June 22, 2021. PSSI and APPI agreed to immediately hold a joint workshop, which aims to educate footballers in Indonesia regarding the proper and correct first aid skills, according to the health standard.
"Eriksen's incident in the Euro 2020 Tournament is a reminder for Indonesian footballers to understand the importance of first aid skills in any accidents. Such situations can happen to anyone and footballers are the first people who can help if this happens to their professional colleagues on the field" – Firman Utina, President of APPI.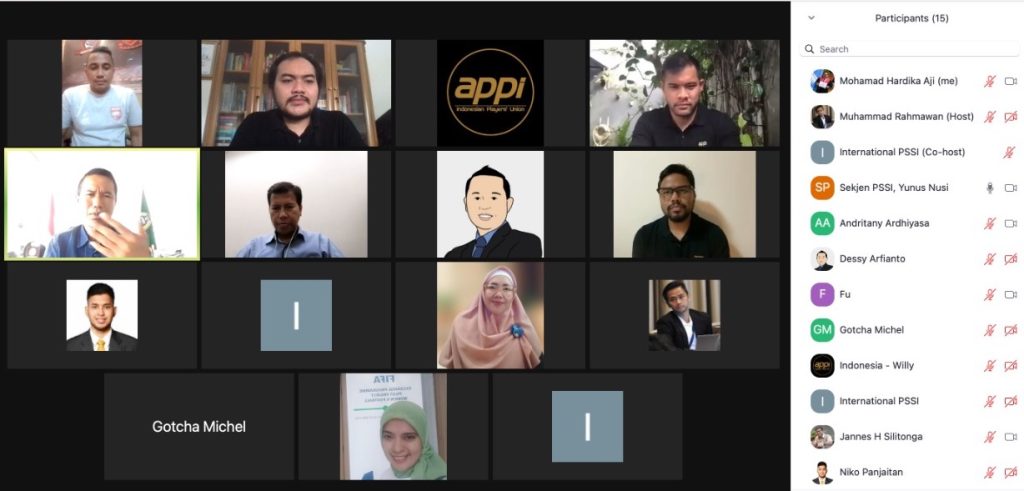 APPI will create a direct educational program for footballers during the 2021 football competition. In this regard, APPI is also communicating with the Ministry of Youth and Sports of the Republic of Indonesia, NOC Indonesia (KOI), and PT Liga Indonesia Baru. This direct presentation and campaign regarding the First Aid will be echoed by APPI during the 2021 season, with the aim of getting a thorough understanding of all footballers and all elements of the match on the field.
The system and implementation of the workshop is planned to be held according to the competition schedule which will begin in July 2021. PSSI and APPI are currently working on the format and procedure for the workshop that are appropriate to the current COVID-19 pandemic conditions.
"The green light has been given by Mr. Yunus Nusi regarding our plan to provide education to footballers. We will present our design and program to PSSI in more detail because the current situation is an unusual situation, health protocols are still to be prioritized. We are also in communication with PT LIB and the Ministry of Youth and Sports. The green light has also been given by NOC Indonesia after last week's meeting with Doctor Carmen Jahja (Chairman of the Sports Medical Commission of NOC Indonesia)" – M. Hardika Aji, Acting General Manager of APPI
In addition, during the virtual meeting,  APPI also conveyed that there were still 112 Indonesian NDRC decisions that had not been resolved. This is a special concern for APPI because the competition, both Liga-1 and Liga-2 will be rolling soon. It is a special concern from  APPI due to the regulation that bans the player registration for clubs that have not yet completely fulfilled the Indonesian NDRC Decision. The verification process based on FIFA's rules regarding the Club Licensing Regulation, one of which is the financial aspect, with no arrears in player salaries, must also be considered, including this current situation.
"We expressed our appreciation to PSSI through the Secretary General who remains committed to the NDRC Indonesia's decision to be resolved by clubs that have disputes before the competition starts. We will wait for the realization of this commitment and will also proactively monitor it by continuing to communicate with relevant parties, including communication with FIFPRO and FIFA" – Andritany Ardhiyasa, Vice President of APPI
For any media enquiries, please contact 081210104215 or info.appi@yahoo.co.id  .
About APPI
Asosiasi Pesepakbola Profesional Indonesia (APPI) was officially formed in 2008. The vision and mission of APPI is to provide protection and education to Indonesian professional footballers and build solidarity between footballers. APPI is a key member of FIFPRO and FIFPRO is the only World Footballers Association recognized by FIFA. In Indonesia, APPI has also been registered as an association organization and has been legalized by the Ministry of Law and Human Rights.