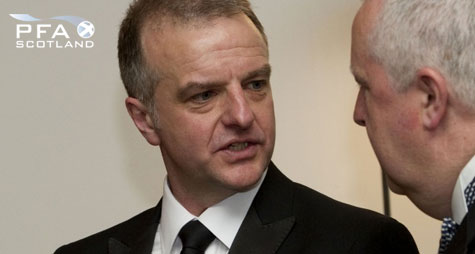 PFA Scotland welcomes the decision by the SPL Clubs to introduce regulations regarding the payment of players salaries on time.
At a meeting in Hampden today, the SPL member clubs approved a resolution meaning that there are now specific requirements for SPL Clubs to pay their players on time and be subject to sanctions if they do not.  Clubs must also report to the SPL any failure to pay players or HMRC on time.
PFA Scotland Chief Executive Fraser Wishart said;
"In recent months we have had high profile situations where players have not received their salaries on time. This is of course unacceptable but in previous cases however the Clubs were not in breach of any SPL rules unless it failed to follow a direction to pay the players made by the SPL at a specially convened hearing.
"The new SPL regulations approved today show that the SPL treat non payment of salaries with the utmost seriousness and we welcome today's outcome. A recent agreement between world players' union FIFPro, UEFA, the EPFL and ECA mean that player contracts now have to adhere to minimum standards and we look forward to further discussions with the SPL aimed at a collective bargaining agreement. These new regulations are an important first step towards such an agreement."
Source: PFA Scotland