Jakarta, 30 Maret 2022 – Keputusan FIFA untuk membatalkan Indonesia menjadi tuan rumah Piala Dunia U-20 merupakan hal yang sangat mengecewakan, bukan hanya bagi pesepakbola namun juga bagi sepakbola Indonesia itu sendiri. Tidak hanya menjadi suatu kesia-siaan karena telah melakukan persiapan selama kurang lebih 3 (tiga) tahun ini, namun juga meruntuhkan semangat dan kepercayaan diri para pesepakbola muda Indonesia yang bersiap untuk berlaga di event tersebut. Event besar  yang selama ini belum pernah diikuti oleh Indonesia.
Runtutan permasalahan seakan tidak pernah selesai bagi sepakbola Indonesia dalam 6 (enam) bulan terakhir ini. Tragedi Kanjuruhan, dihentikannya Kompetisi Liga 2 dan Liga 3 dan terakhir adalah dibatalkannya status tuan rumah Piala Dunia U-20 yang dapat berimplikasi pada ketidakikutsertaan Indonesia dalam ajang yang telah dipersiapkan selama tiga 3 (tiga) tahun.
Yang paling mengecewakan dari ini semua adalah tidak adanya pihak yang bertanggung jawab yang menjadikan hal ini sebagai bahan evaluasi agar tidak kembali berulang. Keadilan bagi korban yang sampai hari ini masih diperjuangkan oleh para keluarga korban, konsekuensi atas kontrak yang menjadi sengketa dikarenakan kompetisi yang dihentikan, hingga tanggung jawab atas biaya besar yang menggunakan uang negara untuk mempersiapkan Piala Dunia U-20 dan juga pemulihan hilangnya semangat dan kepercayaan diri, serta mental para pelaku sepakbola Indonesia.
Adanya instrumen hukum spesial untuk sepakbola dari pemerintah seakan tidak berarti saat mimpi para pelaku sepakbola dan event yang dinantikan seharusnya dapat membangkitkan bahkan mencatat sejarah bagi Indonesia, tidak diperjuangkan dengan semestinya oleh pihak-pihak yang berkepentingan. 
Saat ini sepakbola Indonesia masih dihantui oleh bayang-bayang sanksi yang diberikan oleh FIFA seperti yang tertuang dalam rilis FIFA mengenai pembatalan Indonesia sebagai tuan rumah Piala Dunia U-20. Semoga sanksi yang diterima nantinya bukan sanksi yang berat yang akan menimbulkan kekecewaan berikutnya. APPI mengucapkan terima kasih bagi pihak-pihak yang masih memperjuangkan perencanaan event Piala Dunia U-20 hingga akhir untuk Indonesia, untuk mewujudkan mimpi bagi sepakbola Indonesia.
Untuk pertanyaan dan informasi media lebih lanjut dapat menghubungi 081210104215 atau info.appi@yahoo.co.id
Tentang APPI
Asosiasi Pesepakbola Profesional Indonesia (APPI) terbentuk sejak tahun 2008. Visi-Misi dari APPI adalah untuk memberikan proteksi dan edukasi kepada pesepakbola profesional Indonesia serta menjalin solidaritas antar pesepakbola. APPI merupakan anggota kunci dari FIFPRO dimana FIFPRO ialah satu-satu nya Asosiasi Pesepakbola Dunia yang diakui oleh FIFA. Selain sebagai anggota FIFPRO, APPI juga telah terdaftar sebagai organisasi perkumpulan dan telah disahkan dalam bentuk SK Kemenkumham.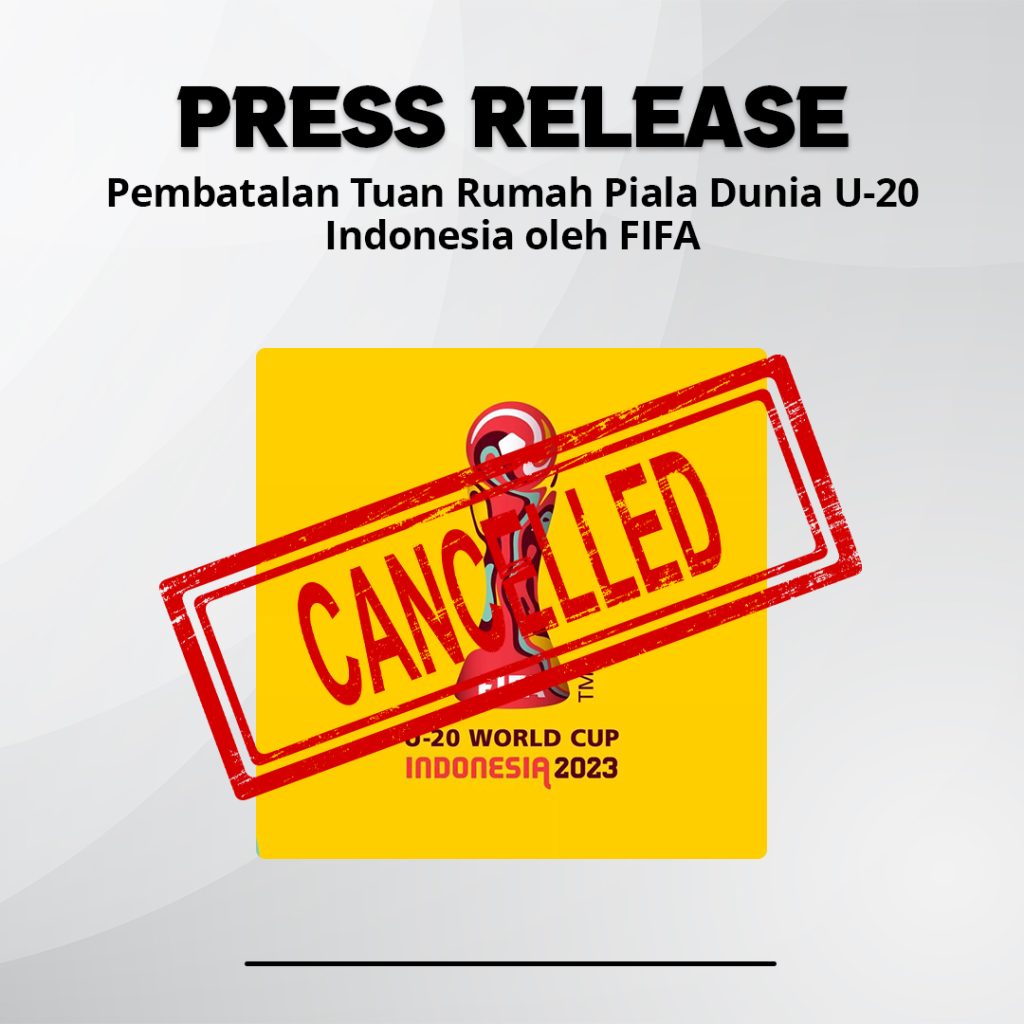 Cancellation of Indonesia U-20 World Cup Host by FIFA
Jakarta, March 30, 2022 – FIFA's decision to cancel Indonesia from hosting the U-20 World Cup is a very disappointing decision, not only for footballers but also for Indonesian football itself. Not only has it been a waste because they have been preparing for approximately 3 (three) years, but it has also undermined the enthusiasm and confidence of young Indonesian footballers who are preparing to compete in the event. An event that has never been participated in by Indonesia.
The series of problems seemed to never end for Indonesian football in the last 6 (six) months. The Kanjuruhan tragedy, the termination of the League 2 and League 3 competitions and finally the cancellation of the status of the host for the U-20 World Cup which could have implications for Indonesia's non-participation in the event which has been prepared for three 3 (three) years.
The most disappointing thing about all of this is that there is no responsible party who is able to evaluate this so that it doesn't happen again. Justice for the victims which is still being fought for by the families of the victims, the consequences for contracts that are in dispute due to the competition being stopped, to the responsibility for the huge costs of using state money to prepare for the U-20 World Cup and also recovery for loss of enthusiasm and confidence, as well as the mentality of Indonesian football players.
The existence of a special legal instrument for football from the government seems meaningless when the dreams of football players and the events that are anticipated and should be able to awaken and even record history for Indonesia, are not properly fought for by the parties concerned.
Currently, Indonesian football is still haunted by the shadow of sanctions imposed by FIFA as stated in the FIFA release regarding the cancellation of Indonesia as the host of the U-20 World Cup. Hopefully, the sanctions received later by Indonesian football are not severe sanctions that will cause further disappointment. APPI would like to thank everyone who fought for the planning of the U-20 World Cup event until the end for Indonesia, to make dreams come true for Indonesian football.
For any media inquiries, please contact 081210104215 or info.appi@yahoo.co.id
About APPI
Asosiasi Pesepakbola Profesional Indonesia (APPI) was officially formed in 2008. The vision and mission of APPI are to provide protection and education to Indonesian professional footballers and build solidarity between footballers. APPI is a key member of FIFPRO and FIFPRO is the only World Footballers Association recognized by FIFA. APPI has also been registered as an association organization in Indonesia and legalized by the Ministry of Law and Human Rights.