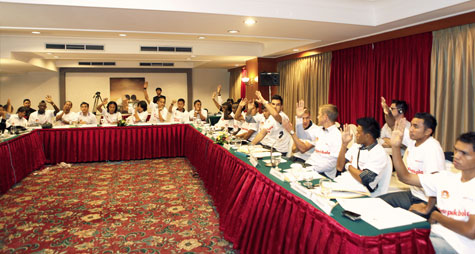 The Professional Footballers Association of Indonesia (APPI) have set a deadline of 7 June for clubs to settle their outstanding wages.
In a first-of-its-kind meeting addressed by Professional Footballers Australia (PFA) president Simon Colosimo, the APPI discussed the issue of unpaid wages in Indonesian football – an issue which has only recently surfaced amidst other controversies like the breakaway Indonesian Super League.
The problem has been stewing for months prior to the meeting, with some players being owed up to six months worth of wages. Among the worst-off clubs are Bontang FC, whose players haven't been paid for four-and-a-half months, Deltras, unpaid in 16 weeks and Persiraja, PPSM Magelang, Sriwijaya, Persema Malang, all of which have almost three months of unpaid wages and bonuses.
Attended by leading players in the league like Bambang Pamungkas, Firman Utina, Erol Iba and Ponaryo Astaman, the decision was unanimously taken that the time had come to force the issue, although some clubs have already taken actions with Persija Jakarta refusing to train for the past three months.
Indonesia's all-time leading goalscorer and football icon Bambang felt that this is a defining moment for the football-crazy nation.
"This is the worst moment I've seen in Indonesian football, the players aren't being paid and everybody is concerned," Bambang told theworldgame.sbs.com.au. "We have an obligation to the future of football in our country to do something. That's why myself, and all the senior players, came to make a stand to make sure there's a future for the game in Indonesia.
"We're hopeful that the clubs will agree to our demand that at least 50 per cent of the money owed be paid by 7 June so we don't have to talk further about a strike."
Amongst other issues, APPI also called for an end to the two top-flight leagues in Indonesia and for all players to be eligible for the national squad when Idonesia face Phillippines on 5 June.
FIFA is expected to make a decision on 15 June, where they may ban Indonesia from the global football body altogether should the breakaway league issue not be resolved.
Source: ESPNStar