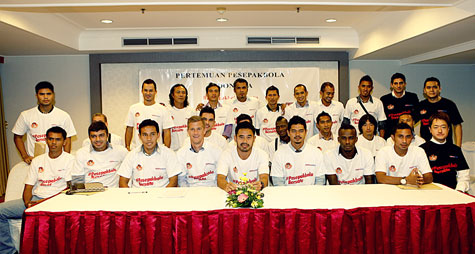 All captains from Indonesia's professional football met each other yesterday in a special meeting organized by the players union APPI. The players not only seem to become victim of a power struggle at FA level but are also affected by the non-payment of salaries of no less than 13 different Indonesian clubs.
The very fruitful meeting of yesterday led to the following statement of Asosiasi Pesepakbola Profesional Indonesia:
APPI expects and supports the presence of 1(One) League in 1(One) Management boards of the Indonesian Football Federation which is legally recognized by FIFA to professionally manage Indonesian Football.
APPI asks for a protection of Indonesian footballers' right to join the Indonesian National Team as stated in FIFA regulation.
APPI urgently asks the clubs that have not fulfil the right of footballers, especially for the unpaid salary as agreed in their contract, no later than 7 June 2012.If until 7 June 2012, there has been no realization of the footballers' rights mentioned above, APPI in #PesepakbolaBersatu will make a strict efforts and also give authority to APPI to negotiate and make a strict law efforts to their clubs in accordance with the provisions stated in each footballer's contract.

Followings are the list of the clubs who have not fulfilled their obligations to their players based on the recognition from the captain of each club:
– Persija Jakarta (ISL)
– Deltras Sidoarjo
– Sriwijaya FC
– Persija Jakarta (IPL)
– Persema
– Pelita Jaya
– Persibo Bojonegoro
– PPSM
– Bontang FC
– Persiraja
– Persela
– Arema ISL
– PSM Makassar

APPI asks for a firm decision from FIFA regarding our national football issue without giving any sanction to Indonesian football federation. Whatever decision that will be taken by FIFA regarding our national football issue, APPI asks the clubs to still meet their footballers' rights and for FIFA to oversee those clubs in carrying out their obligations to the footballer.
APPI is expecting that the next season of Indonesian league will be followed by clubs that are able to ensure the operational and financial sustainability of its club, at least for one season.
Jakarta, 28 May 2012
Asosiasi Pesepakbola Profesional Indonesia
(Professional Footballers Association of Indonesia)
Source: www.fifpro.org