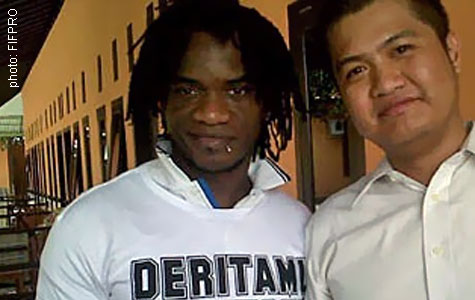 FIFPro wants to express its concerns about the situation of Moukwelle. French professional footballer Moukwelle played for the Indonesian Premier League club Persewangi Banywangi, had not been paid for nine months and was seriously ill.
In December, FIFPro and the professional footballers' associations of Indonesia (APPI) and France (UNFP) were alerted about the situation of Moukwelle. The French footballer was suffering from typhoid and stress. The latter disease was caused by his situation, as he had not been paid for nine months by his former club Persewangi Banyuwangi for which he played in the 2011/2012 season.
APPI offered its help to Moukwelle. The Indonesian players' union contacted the Persewangi Banyuwangi management multiple times and also visited the East-Javanese club. Several times, the club's management promised to pay the player, but as of yet has not paid Moukwelle in full.
Moukwelle only received a fraction of the total outstanding wages. Actually, after a negotiation between Moukwelle and the management, the outstanding amount was reduced to approximately 75 per cent of the total outstanding wages. After the conclusion of the agreement, Moukwelle received 29 per cent of the reduced amount through a bank transfer without any further messages.
The management promised to pay the remaining 71 per cent in the past two weeks. But until today, no new payment has been made to Moukwelle.
Fortunately, Moukwelle has recovered from typhoid, though he is still suffering from stress due to the ongoing issue of his unpaid salary. Still, he has stated to remain in Indonesia until he has received his full salary. APPI has vowed to help him.
FIFPro is very concerned about the situation in Indonesia. After the unfortunate passing of Diego Mendieta, FIFA issued a final warning to the Indonesian authorities, to reform their football. FIFPro wants to reiterate that the Indonesian authorities must take their responsibility to act swiftly. FIFPro does not want to report on any more professional footballers being victimized due to a lack of respect and/or effort of Indonesian clubs and authorities.
'It is unbelievable that a few weeks after the passing of Diego Mendieta, we are informed about another player in Indonesia seriously suffering from an illness and waiting in vain for the payment of his salary', says FIFPro Division Asia/Oceania chairman Brendan Schwab. 'Fortunately, Moukwelle has recovered from his sickness. But it is another warning sign that drastic reforms are needed in Indonesia.'
Source: FIFPRO