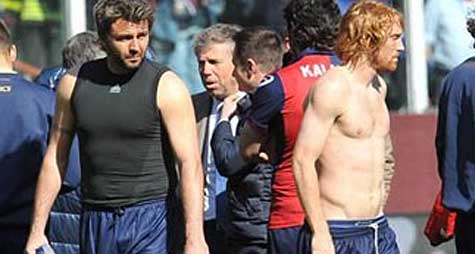 'Why do we accept this?' Damiano Tommasi, president of the Italian professional footballers' association AIC, reacted furiously to the events in Genoa, where hooligans of the home team interrupted the match and forced 'their' players to take of their shirts because they were trailing.
FIFPro is very concerned about the current situation in Italy.
On Sunday, the match between Genoa and Siena was suspended for 40 minutes. After 53 minutes Genoa were losing 4-0, when the referee stopped the play as smoke bombs and firecrackers were hurled onto the pitch by a small contingent of Genoa fans. Some of them entered the field and demanded the players remove their shirts because 'they were not worthy of wearing them'. Most Genoa players handed their shirts to captain Marco Rossi.
'What happened in Genoa is very serious', reacted Damiano Tommasi. 'These are probably the same supporters that forced Omar Milanetto to leave Genoa after last season. These are probably the same people that a few weeks ago entered the players' dressing room.'
'Unfortunately, this climate of blackmail has been part of Italian football for a while and not only in Genoa. It happens all over Italy, especially in the lower divisions. Hooligans halt team busses and storm dressing rooms when the results are not as expected. We now take it for granted that when a team loses, you throw a stone.'
'Why do we accept this?'
'The player is just doing his job. But each time he is taking a corner, he is thinking: Will someone attack me?'
FIFPro is disgusted with the events in Genoa. It is incredible that only one week after the entire football world showed its respect for Piermario Morosini, colleagues of this player are being threatened because they are losing a match…
Everybody, even these so-called supporters have to accept that football is a game. That football has winners and losers.
FIFPro is very concerned about the current situation in Italy, as the respect for professional footballers appears to be on the decline and players are subjected to violence and insults. Some people forget that professional footballers are human beings who are just doing their job. The players are entitled to a working environment free of violence and intimidation.
The players of Genoa suffered a total humiliation that cannot be condoned by anyone. Not by FIFPro, not by the players, not by the real football fans and not by the League. This has got to stop. The players cannot stop this, it is time for the Italian football authorities and Italian government to take appropriate actions.
Source: FIFPro