PESEPAKBOLA PROFESIONAL HARUS LEBIH DIHARGAI
Professional Footballers need to be more Respected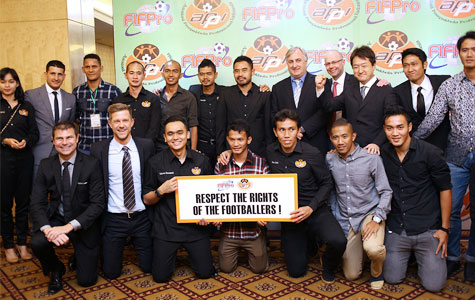 Jakarta, 6 Mei 2014 – Bekerja sama dengan APPI (Asosiasi Pesepakbola Profesional Indonesia), Asosiasi Pesepakbola Profesional Dunia FIFPro (Federation Internationale des Associations de Footballeurs Professionels) yang menaungi lebih dari 65.000 pesepakbola profesional di lebih dari 55 negara menggelar International Legal Conference 2014 di Hotel Mulia Senayan Jakarta, Selasa (6/5).
Jakarta, 6 May 2014 – Cooperated with APPI (Professional Footballers Association of Indonesia), FIFPro, World Football Union that houses more than 65,000 professional footballers in more than 55 countries hold the International Legal Conference 2014 at the Hotel MuliaSenayan Jakarta, Tuesday (6/5).
"Penyelenggaraan International Legal Conference 2014 di Indonesia hari ini adalah realisasi komitmen yang kami nyatakan pada Kongres Tahunan FIFPro 2013 di Slovenia Oktober lalu, bahwa FIFPro akan terus mendukung para pesepakbola profesional di Indonesia dalam memperjuangkan hak-haknya dalam menjalankan profesinya," ujar Wakil Presiden FIFPro Rinaldo Martorelli saat konferensi pers di sela-sela ILC 2014.
"The International Legal Conference 2014 in Indonesia today is the realization of our commitment FIFPro declared at the Annual Congress 2013 in Slovenia last October, that FIFPro would continue to support the professional footballers in Indonesia in fighting for their rights in their profession," said Vice President of FIFProRinaldoMartorelli during a press conference of the ILC 2014.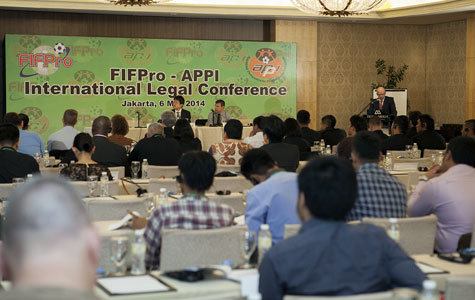 Krisis yang melanda para pesepakbola profesional di Indonesia, kata Rinaldo, adalah hal krusial yang harus mendapat perhatian serius dan terus diupayakan solusinya. "Kematian tragis teman-teman kita yang berkarier sebagai pesepakbola profesional di Indonesia, seperti Diego Mendieta, Camara Sekou, Solomon Begondo, karena hak-hak profesionalnya diabaikan tak boleh terulang. Kami bersama APPI sebagai satu-satunya asosiasi pesepakbola profesional di Indonesia yang diakui FIFPro dan FIFA tak akan berhenti berjuang demi masa depan para pesepakbola profesional," tandas Rinaldo.
The crisis that hit the professional footballers in Indonesia, Schwab said, is a crucial mat to be er which need a serious attention and continued effort and solution. "The tragic death of our friends who has a career as a professional footballer in Indonesia; Diego Mendieta, SekouCamara, Begondo Solomon, because of his professional rights have been ignored, shall not be repeated. We, with APPI as the only professional footballers association in Indonesia which recognized by FIFPro and FIFA will continue to support the professional football player in the fight for their future, "said Rinaldo.
Wakil Presiden FIFPro yang juga menjabat sebagai Ketua FIFPro Divisi Asia Brendan Schwab mengatakan, mata sepakbola dunia saat ini sedang tertuju pada Indonesia. "FIFPro dan APPI sangat prihatin melihat kurangnya komitmen PSSI terhadap prinsip-prinsip tata kelola yang baik, pemenuhan hak dan kesejahteraan pesepakbola profesionaldi Indonesia. Indonesia telah meratifikasi dekralasi ILO (International Labour Organization), jadi selayaknya para pesepakbola di Indonesia berhak untuk mendapatkan perlindungan dari deklarasi ini," tutur Schwab.
FIFPro Vice President who also acts as the Chairman of FIFPro Asia Division Brendan Schwab explained further, the eye football world is currently focused on Indonesia. "FIFPro and APPI are very concerned to with the lack of commitment from PSSI regarding the principles of good governance, the fulfillment of the rights and welfare of professional footballers in Indonesia. Indonesia has ratified the declaration of ILO (International Labour Organization), so the footballers in Indonesia are entitled to protection of this declaration, "said Schwab.
Lebih lanjut Schwab menjelaskan, International Legal Conference hari ini mengkaji pengalaman-pengalaman para pesepakbola di dunia dalam menggunakan UU ketenagakerjaan dan bahkan melakukan lobi untuk perubahan regulasi dalam upaya melindungi pemain dan memajukan industri sepakbola.
Schwab explained further that the International Legal Conference today examines the experiences of footballer in the world in the use of labor law and even to lobby for regulatory changes in an effort to protect players and advance the football industry.
"Ini adalah contoh yang jelas untuk para pesepakbola profesional di Indonesia. Klub-klub Indonesia, selaku entitas yang mempekerjakan para pemain, seharusnya tunduk pada undang-undang ketenagakerjaan Indonesia. Apa yang dilakukan para pesepakbola Brazil dengan"Hukum Pele"patut ditiru karena "Hukum Pele" tidak hanya membuat pemain memahami hak-haknya tetapi juga memajukan tata kelola sepakbola Brazil,"papar Schwab.
"This is the clear example for APPI. Indonesian clubs, as the employers of the players, are subject to Indonesia's manpower law. APPI must take this path. Further, APPI can learn from the experience of the Brazilian players who have benefitted from the famous Pele law which not only recognizes the rights of Brazilian players but advances the good governance in Brazilian football."
Senada dengan Schwab, Wakil Ketua FIFPro Asia Takuya Yamazaki menuturkan, sepakbola Indonesia bisa maju jika dibarengi pembinaan yang baik dan itikad untuk menjaga terpenuhinya hak-hak profesional dan kesejahteraan pemain. "Di Inggris, Spanyol, Brazil, Jepang, dan Australia di mana sepakbola begitu maju ada asosiasi pemain yang memiliki regulasi dan kesepakatan yang jelas dengan pihak-pihak terkait untuk menjamin karier yang stabil bagi para pemain," jelas Takuya.
In line with Schwab, Vice Chairman of FIFPro Asia Takuya Yamazaki said, the Indonesian football will be able to move forward if accompanied by good coaching and faith to keep the professional rights and well-being of the players. "The most advanced football nations in the world such as England, Spain, and Brazil as well as Japan and Australia in our own region have strong players' associations which have negotiated agreements and regulations to provide for a stable career path for players." Said Takuya.
CEO APPI Valentino Simanjuntakpada kesempatan yang sama menjelaskan, FIFPro APPI ILC 2014 merupakan ajang edukasi bagi para pesepakbola, manajemen klub, pelatih, praktisi hukum, jurnalis, pelajar dan pencinta sepakbola agar lebih memahami hak-hak profesional dan berbagai upaya yang dapat dilakukan untuk memajukan sepakbola sekaligus mensejahterakan para pesepakbola profesional. "Sudah waktunya para pesepakbola profesional di negeri ini lebih dihargai. Kami pun berharap ke depannya mereka lebih memahami aspek-aspek hukum terkait kontrak kerja dan lebih berhati-hati sebelum mengikatkan diri secara profesional dengan sebuah klub," tukas Valentino.
CEO of APPI, Valentino Simanjuntak explain that FIFPro APPI ILC 2014 is an educational event for a footballer, club management, coaches, lawyers, journalists, students and all the football lovers to gain better understanding in the professional rights as well all the efforts which can be done to advance our football as well the welfare of the professional footballers. "It's time for professional footballers in this country to be more appreciated. We also hope in the future they get better understandingin the legal aspects related to the employment contract and be more careful signing a professional contract with a club. "said Valentino.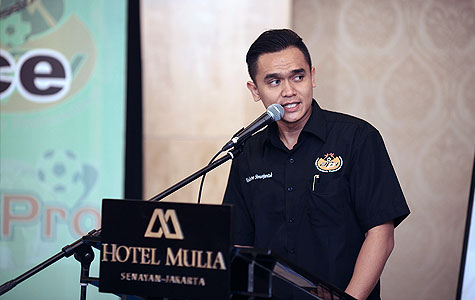 Dalam catatan APPI, kata Valentino, sejak Mei 2012 hingga April 2014 APPI menerima lebih dari 100 laporan resmi dari para pesepakbola atas kasus tunggakan gaji. Tim Bantuan Hukum APPItelah membantu melakukan langkah hukum dalam upaya memperjuangkan tunggakan gaji dan uang muka mereka yang tak kunjung dibayarkan oleh klubnya masing-masing. Sesuai dengan arahan dari PSSI, langkah hukum pertama yang telah dilakukan adalah melayangkan surat permohonan penyelesaian perselisihan kepada PSSI. Langkah tersebut dilakukan dengan tujuan agar PSSI dapat membantu memutuskan dan menyelesaikan permasalahan tunggakan para pesepakbola tersebut.
APPI recorded, said Valentino, from May 2012 to April 2014 APPI received more than 100 official reports from the footballer regarding the non-payment cases. APPI Legal Team helped the players in taking legal action as the effort to fight for their right which have not been fulfilled by their clubs. In accordance with the direction from PSSI, the first legal step that has been done is the dispute settlement request letter to the PSSI. We have done this step so that the PSSI can help to decide and resolve this non-payment problems.
Hingga kini terdapat 54 kasus yang telah selesai — pemain telah menerima pelunasan, baik secara lunas ataupun perjanjian terminasi — dan sisanya dikabarkanbelum menerima hak-hak mereka sepenuhnya. Hal ini menunjukkan ketidaksesuaian dengan apa yang dijanjikan oleh PSSI yakni bahwa klub-klub yang masih memiliki tunggakan kepada para pemain/eks-pemainnya tidak akan bisa berlaga pada kompetisi musim 2014, karena kenyataannya klub-klub itu ada dalam daftar peserta kompetisi musim 2014.
Until now there are 54 cases that have been settled — the player has received repayment, either in full or with termination agreement – and the rest is reported not yet received their full rights. This shows a mismatch with the promise which stated by PSSI that clubs who still have arrears to the players / ex-players will not be able to compete in the 2014 season of competition, because the reality right now is that clubs are still exist in the list of participants of the 2014 season.
Bambang Pamungkas yang kini duduk sebagai Wakil Presiden APPI mengungkapkan kepada wartawan, bahwa selama ini sebagian besar pesepakbola profesional di Indonesia cenderung hanya melihat "angka" dari kontrak mereka, tidak sepenuhnya mengerti isi kontrak, dan bahkan tidak menyimpan salinan kontrak yang telah ditandatangani. "Berdasarkan pengalaman pribadi, saya tahu bagaimana sulitnya hak-hak dasar pemain dihormati. Beberapa tahun terakhir ini saya melihat kegagalan dari sejumlah klub di Indonesia dalam memenuhi tanggung jawab keuangan sesuai kontrak dengan pemain. Oleh sebab itu, para pemain harus terus diberi edukasi agar mampu dan berani memastikan hak-haknya akan terpenuhi sesuai kesepakatan yang berkekuatan hukum," tukas Bambang.
Bambang Pamungkas, the Vice President of APPI stated to the media that so far, most of the professional footballer in Indonesia tend to only look at the "numbers" of their contract, they do not fully understand the contents of the contract, and did not even keep a copy of the signed contract. "I know from my own experience how difficult it is to have your basic rights as a player respected. The past few years have seen widespread failures by clubs in meeting their financial and contractual responsibilities to players. Due to that the players need to be educated to be able to ensure their right are fulfilled according to the agreement" said Bambang.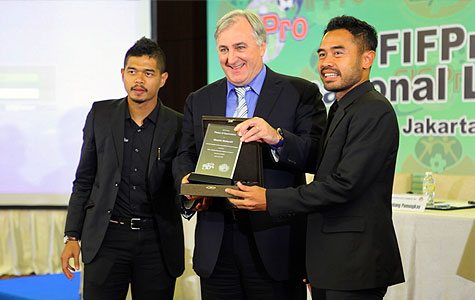 "Sampai saat ini belum ada keseragaman di dalam kontrak mengenai pilihan Badan Penyelesaian Sengketa apabila terjadi permasalahan di antara kedua belah pihak," tambah Presiden APPI Ponaryo Astaman. Sebagian besar kontrak kerja, ujarnya, menyebutkan NDRC (National Dispute Resolution Chamber) sebagai rujukan penyelesaian sengketa. Padahal sampai saat ini badan tersebut belum terbentuk di Indonesia. Pada beberapa perjanjian kerja lain juga mencantumkan badan penyelesaian sengketa yang dinilai tidak representatif, yakni Pengda/Pengcab daerah setempat.
"Until now, there has been no uniformity in the contract regarding the choice of the Dispute Settlement Body in case of problems between the two sides," added the President of APPI PonaryoAstaman. Most of their employment contract, he said, citing the NDRC (National Dispute Resolution Chamber) as a reference to dispute resolution. Yet until now the NDRC itself has not been established in Indonesia. In some other contract, they also provides for a dispute resolution body that is considered as an inadequate chamber, such as Pengda / Pengcab of the local area.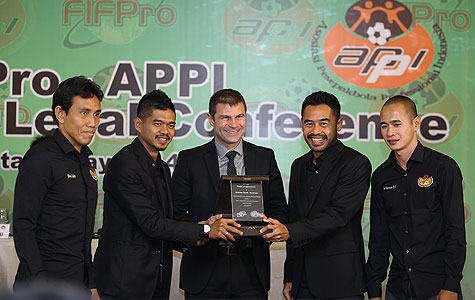 APPI juga mencatat ada beberapa kasus perselisihan antara pesepakbola profesional asal Australia, Jepang, dan Belanda dengan klub sepakbola profesional Indonesia terutama terkait keterlambatan pembayaran hak-hak pesepakbola. Melalui FIFPro Asia, tiap-tiap klaim dan sengketa itu telah diajukan kepada FIFA sebagai rujukan ke Dispute Resolution Chamber.
APPI also recorded that there were some cases of disputes between professional footballers from Australia, Japan, and the Netherlands with Indonesian professional football clubs related to the non-payment rights of footballer. Through FIFPro Asia, each claim and the dispute has been submitted to FIFA as the reference to the Dispute Resolution Chamber.
Sementara itu Valentino memaparkan, berbagai upaya edukasi dan pendampingan telah dilakukan oleh APPI untuk mendorong terciptanya saling pengertian dan kerja sama yang baik dari berbagai pihak. Sejumlah diskusi bertema pengelolaan keuangan bagi klub dan pesepakbola profesional Indonesia, pemberian penghargaan kepada klub profesional tanpa tunggakan gaji pada kompetisi lalu seperti Klub Persib Bandung, Mitra Kukar, Persipura, Gresik United, dan Semen Padang, adalah contoh peran aktif APPI.
Meanwhile Valentino explained, education and advocacy efforts have been made by APPI to encourage mutual understanding and good cooperation from various parties. A number of themed discussion such as; the financial management of the club and the Indonesian professional footballer, and awards to professional clubs without salary arrears in the competition as club Persib Bandung, Partner Kukar, Roma, Gresik United, and Semen Padang, are the example.
FIFPro APPI International Legal Conference 2014 menghadirkan pembicara antara lain:
FIFPro APPI International Legal Conference 2014 presented the represtative from 10 countries, with the International legal experts such as:
Rinaldo Martorelli (Brazil) — Wakil Presiden FIFPro, Presiden FIFPro America, anggota Dispute Resolution Chamber FIFA, anggota Komite Status Pemain FIFA. Sebagai kepala asosiasi pemain profesional di Brazil, ia memainkan peran penting dalam pengembangan "Hukum Pele" yang telah berhasil memajukan hak-hak para pesepakbola di Brazil, negara yang tersohor sebagai negara sepakbola paling sukses. Hukum serupa telah diadopsi oleh negara-negara Amerika Selatan lainnya menyusul lobi-lobi yang dilakukan oleh asosiasi pesepakbola profesional.


Rinaldo Martorelli (Brazil), the Deputy President of FIFPro, President of FIFPro Americas, member of the FIFA Dispute Resolution Chamber and member of the FIFA Players' Status Committee. As the head of the professional footballers' association in Brazil, he played an important role in the development of the famous "Pele law" which advanced the rights of the players in Brazil, football's most successful country. Similar laws have been adopted in other South American countries following lobbying by player associations.

Takuya Yamazaki (Jepang) — Wakil Ketua FIFPro Asia, anggota FIFA Dispute Resolution Chamber, penasihat hukum untuk masalah-masalah yang berkaitan dengan pesepakbola dan atlet baseball di Jepang.


Takuya Yamazaki (Japan), the Deputy Chairman of FIFPro Asia, a member of the FIFA Dispute Resolution Chamber and a legal adviser on player matters in Japanese football and baseball

Andrew Scott-Howman (Selandia Baru) — anggota Dewan FIFPro Asia, penasihat hukum untuk masalah-masalahyang berkaitan dengan pemain sepakbola, rugby, dan kriket di Selandia Baru.


Andrew Scott-Howman (New Zealand), a member of the Board of FIFPro Asia and a legal adviser in player matters in New Zealand football, rugby and cricket.
***
Informasi lebih lanjut dapat menghubungi:
Sekretariat APPI: info.appi@yahoo.co.id
Tel. 021 5790 5302
Further information regarding this conference, please contact the APPI Secretariat: info.appi@yahoo.co.id
Tel. +6221 5790 5302