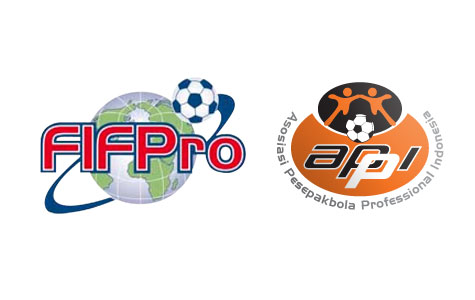 FIFPro dan APPI akan menyelengarakan Konferensi Legal Internasional mengenai Hak-Hak dari Pesepakbola Professional
FIFPro, Asosiasi Pesepakbola Dunia dan Asosiasi Pemain Sepakbola Profesional Indonesia (APPI) akan bersama-sama menjadi tuan rumah konferensi Hukum Internasional tentang Hak-hak pemain sepalbola profesional di Hotel Mulia Senayan- Jakarta, pada Selasa 6 Mei 2014.
Presiden dan Wakil Presiden APPI, Ponaryo Astaman dan Bambang Pamungkas akan memimpin para perwakilan dari pesepakbola dalam konferensi ini. Mereka akan berbagi pengalaman mereka dalam menghadapi krisis dan kesengsaraan para pesepakbola di Indonesia dalam beberapa tahun terakhir ini.
"APPI dijalankan oleh, dari, dan untuk pemain dan secara eksklusif diakui oleh FIFPro sebagai satu-satunya badan perwakilan pesepakbola professional di Indonesia" ungkap Ponaryo Astaman. ""Para pemain memiliki peran penting untuk berperan dalam menjamin kesejahteraan sepakbola Indonesia, dan luar lapangan, dan ini dimulai dengan menghormati hak-hak pemain dan kontrak."
"Saya tahu berdasarkan pengalaman saya sendiri, bagaimana sulitnya agar hak-hak dasar Anda sebagai pemain dapat dihormati. Saya adalah salah satu yang beruntung. Beberapa tahun terakhir saya melihat kegagalan dari klub-klub di Indonesia dalam memenuhi tanggung jawab keuangan dan kontrak kerja bagi pemain dan juga kematian tragis dari empat pesepakbola di Indonesia. ", Bambang Pamungkas menambahkan.
Wakil Presiden FIFPro yang juga menjabat sebagai Ketua FIFPro divisi Asia, Brendan Schwab mengatakan bahwa mata sepakbola dunia saat ini sedang tertuju pada Indonesia.
"Masalah-masalah yang dihadapi para sangat menjadi perhatian FIFPro, yang mewakili lebih dari 65.000 pesepakbola profesional di lebih dari 55 negara," ungkap Brendan.
"Kurangnya tata kelola yang baik membuat pemain di Indonesia tidak dapat bergantung pada PSSI untuk menegakkan kontrak pemain dalam kerangka sepakbola. Hal ini merupakan hal yang tidak boleh terjadi. Persepakbola profesional harus memiliki hak untuk merujuk kasus ke pengadilan sipil dan tenaga kerja. "
Para Ahli Hukum Internasional yang akan berbicara dalam konferensi ini antara lain:
Rinaldo Martorelli (Brazil), Wakil Presiden FIFPro, Presiden FIFPro America, anggota Dispute Resolution Chamber FIFA dan anggota Komite Status Pemain FIFA. Sebagai kepala asosiasi pemain profesional di Brazil, ia memainkan peran penting dalam pengembangan dari "Hukum Pele" yang telah sukses memajukan hak-hak para pesepakbola di Brasil, negara yang paling sukses di sepakbola. Hukum yang serupa telah diadopsi di negara-negara Amerika Selatan lainnya setelah lobi yang dilakukan oleh asosiasi pemain.
Takuya Yamazaki (Jepang), Wakil Ketua FIFPro Asia, anggota dari FIFA Dispute Resolution Chamber dan penasihat hukum mengenai hal-hal yang berkaitan dengan pemain sepakbola dan baseball di Jepang.
Andrew Scott-Howman (Selandia Baru), anggota Dewan FIFPro Asia dan juga penasihat hukum mengenai hal-hal yang berkaitan dengan pemain sepakbola, rugby dan kriket di Selandia Baru.
Para Ahli Hukum tersebut juga akan berbicara tentang hak-hak dari pekerja dan pemain sepakbola di bawah hukum Indonesia untuk membantu menarik kesimpulan dalam konferensi ini, tentang bagaimana untuk memajukan hak-hak dan profesionalisme bagi para pemain dan juga sepakbola Indonesia ditahun mendatang.
Schwab mengatakan bawa sepakbola Indonesia dapat mengembakan potensi-potensi yang ada jika dapat membina kesejahteraan para pemain sepakbolanya dengan baik.
"Negara-negara sepak bola paling maju di dunia seperti Inggris, Spanyol, dan Brasil serta Jepang dan Australia (di wilayah kami sendiri) memiliki asosiasi pemain yang kuat yang memiliki kesepakatan dan regulasi yang telah dinegosiasikan untuk dapat menyediakan jalur karir yang stabil untuk para pemain."
"Asosiasi pemain juga memainkan peran penting dalam membantu mengedukasi para pesepakbola dalam mempersiapkan diri mereka setelah pension dari sepakbola."
Siapa Saja Yang Harus Hadir Dalam Konferensi Ini?
Para Pesepakbola, Manajemen Klub, Pelatih, Media, Advokat dan Pelajar.
Konferensi Pers:
Perwakilan Pesepakbola Profesional Indonesia dan para Advokat akan mengadakan konferensi pers pada jam 12 siang, 6 Mei 2014.
Registrasi:
Gotcha Michel, APPI Secretary General info.appi@yahoo.co.id
Registrasi Ditutup Pada:
Selasa, 29 April 2014
Tempat dan Jam Konferensi:
Selasa, 6 Mei 2014, 9.00am – 4.00pm
(Dengan Konferensi Pers pada pukul 12 Siang)
Hotel Mulia Senayan
Jl. Asia Afrika Senayan 1, Jakarta, Jakarta Pusat 10270, Indonesia
+62 21 5747777
Bahasa:
Konferensi ini akan diselenggarakan dalam bahasa Indonesia, bahasa Inggris dan Spanyol. Terjemahan secara simultan akan tersedia.
Agenda:
Pembukaan:
Gambaran dari APPI mengenai situasi yang dihadapi pemain sepakbola profesional di Indonesia saat ini berikut sejarah masalah dan krisi yang telah dihadapi pemain.
FIFPro dalam mendukung Pesepakbola Profesional Dunia.
Hak-hak Pesepakbola yang tercantum dalam Regulasi FIFA.
Melindungi dan memajukan hak-hak pemain di bawah hukum – (Perspektif historis: Bosman Case,1995).
Hukum Indonesia:
(a) Hak pekerja dan karyawan dalam Hukum Indonesia.
(b) Hak-hak pesepakbola profesional dalam Hukum Indonesia.
Mengubah hukum untuk melindungi para pemain dan industri sepakbola profesional – studi kasus kemajuan di Amerika Selatan (Brazil)
Sesi Tanya Jawab/ Diskusi Panel.
Kesimpulan.
FIFPro and APPI to Host International Legal Conference on the Rights of Professional Footballers in Jakarta
FIFPro, the world footballers' association, and Asosiasi Pemain SepakbolaProfesional Indonesia (APPI) today announced they will jointly host an international legal conference on the rights of professional footballers at the Hotel Mulia in Jakarta on Tuesday 6 May 2014.
APPI President PonaryoAstaman and Vice President BambangPamungkas will lead APPI's delegation of players at the conference. They will share their first hand experiences of the trials and tribulations that have confronted players in Indonesia in recent years.
"APPI is run by players for players and is exclusively recognised by FIFPro as the representative body of professional footballers in Indonesia," Ponaryo said. "The players have a key role to play in ensuring the prosperity of Indonesian football, on and off the field, and this starts with respect for player rights and contracts."
Bambang said, "I know from my own experience how difficult it is to have your basic rights as a player respected. But even I am one of the lucky ones. The past few years have seen widespread failures by clubs in meeting their financial and contractual responsibilities to players as well as the tragic deaths of four footballers."
FIFPro Asia Chairman President Brendan Schwab, a FIFPro Vice President, said the eyes of the football world were now on Indonesia.
"The problems confronting the players and the game in recent times have greatly concerned FIFPro, which represents over 65,000 players in more than 55 countries," Schwab said.
"The lack of good governance has meant that players in Indonesia have been unable to rely on the PSSI to enforce player contracts within the football framework. Where this is not possible, players must have the right to refer cases to the civil and labour courts."
International legal experts to speak at the conference include:
Rinaldo Martorelli (Brazil), the Deputy President of FIFPro, President of FIFPro Americas, member of the FIFA Dispute Resolution Chamber and member of the FIFA Players' Status Committee. As the head of the professional footballers' association in Brazil, he played an important role in the development of the famous "Pele law" which advanced the rights of the players in Brazil, football's most successful country. Similar laws have been adopted in other South American countries following lobbying by player associations
Takuya Yamazaki (Japan), the Deputy Chairman of FIFPro Asia, a member of the FIFA Dispute Resolution Chamber and a legal adviser on player matters in Japanese football and baseball
Andrew Scott-Howman (New Zealand), a member of the Board of FIFPro Asia and a legal adviser in player matters in New Zealand football, rugby and cricket.
Legal experts will also speak on the rights of employees and footballers under Indonesian law to help the conference draw conclusions about how to advance the rights and professionalism of both Indonesian football and the players in coming years.
Schwab said Indonesian football must strategically address the wellbeing of its players if it is to reach its potential.
"The most advanced football nations in the world such as England, Spain, and Brazil as well as Japan and Australia in our own region have strong players' associations which have negotiated agreements and regulations to provide for a stable career path for players.
"These players' associations also play a vital role in helping players educate themselves to prepare for life after football, which is a short term and precarious career."
Who Should Attend?
Football players, administrators, coaches, media, lawyers and students
Media Conference:
Guest players and lawyers will hold a media conference at 12.00pm on the day of the conference.
To Register:
Gotcha Michel, APPI Secretary General info.appi@yahoo.co.id
Closing date for Registration:
Tuesday 29 April 2014
Conference Details:
Tuesday 6 May 2014, 9.00am – 4.00pm (with media conference at 12.00pm)
Hotel Mulia Senayan
Jl. Asia AfrikaSenayan 1, Jakarta, Jakarta Pusat 10270, Indonesia
+62 21 5747777
Conference Languages:
The conference will be held in Bahasa Indonesia, English and Spanish. Simultaneous translation will be available.
Conference Agenda:
Opening
A review by APPI of the present situation confronting professional footballers in Indonesia, and the history of the problems that have confronted players
FIFPro's work in supporting the world's professional footballers
Player rights under FIFA regulations
Protecting and advancing the rights of players under the law – an historical perspective (including the famous 1995Bosman ruling in Europe)
Indonesian law:
(a) The rights of workers and employees under Indonesian law
(b) The rights of professional footballers under Indonesian law
Changing the law to protect the players and the industry of professional football – a case study of progress in South America (Brazil)
Q & A // Panel Session with Guest Players & Lawyers
Conclusions