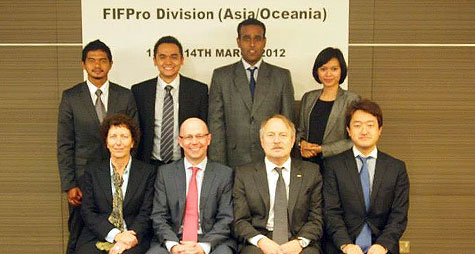 Indonesia Professional Football Players Association established on 2008 and became a member of FIFPro the world player union and a partner of FIFA on XXXX. APPI is formed by the players, consists of players and exist for the benefit of Indonesian professional football players.
Commitment of APPI
Adopting FIFPRo's, our commitment of establishing APPI is to support the players.
Mission Statement
APPI appoint on the "Players Relation" as our priority and focusing ourself to the Educate,Protect and make a Solidarity within players, with the rationale that the foundation of the PFA is the healthy and strong relationship with the players itself.
Goals
To educate the players, to make the Indonesian Professional Football Players realize that they have an association that will give them information regarding their rights as a footballer, an association that will give them protection if their right is violated and also an associatoin that is able to organize the activities for the players in Indonesia.
APPI House
APPI head office is located in Gelora Bung Karno Sports Centre – Senayan area, South Jakarta. The office is placed in the center of sport and business and it's strategical domain made the office very easy to reach.
OBJECTIVES
To educate, train and develop the players and act as a single representative organisation for all players across Indonesia
Develop training and education to promote footballers welfare beyond the field of football
Work for the benefit of players and also their welfare.
Act as an accredited representative of the players and liaise in all matters of common interest
Work towards the promotion of football players in all capacities both on the field and in portraying a better image off the field
Assist the football bodies in the country towards promotion of the game of football and work in tandem for development and promotion.
Honour and felicitate players through awards, prizes and incentives and to encourage and motivate them
ACTIVITIES
Training for the education of players
Annual APPI awards for the players based on voting by the players
Advise on contracts for professional players
Assistance of contract issues faced by professional footballers
Consultancy on Anti Doping requirements of players
Discounts and reductions on football merchandise for players and clubs
Members
APPI members are come from both Indonesian Premier League, Indonesian Super League and also each of it's primary division.